Barcelona
Barcelona
Visit Spain's second largest city and the capital of Catalonia for its typically Mediterranean tradition, history and culture.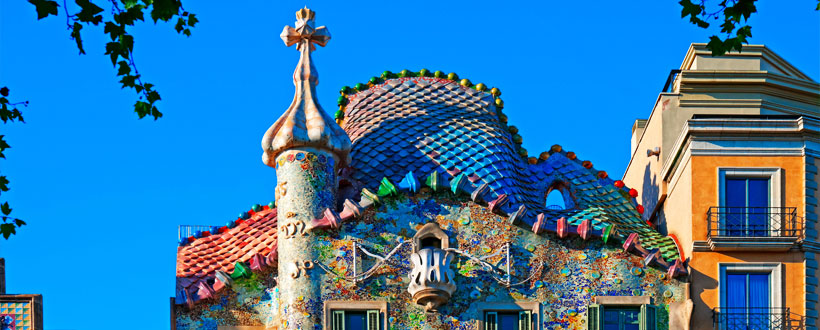 Situated between the sea and the mountains, Barcelona has found a formidable balance: a foot in the traditional and the other in the avant-garde. It is also one of the Mediterranean's busiest ports. Restaurants, bars and clubs are always packed, as is the seaside in summer. Barcelona has been breaking ground in art, architecture and style since the late 19th century. The city itself could keep you occupied for weeks but just outside it are sandy beaches and the Montserrat mountain range - so be sure to make time for a few day trips during your stay.
---
Barcelona Must Sees
Columbus Statue
An important landmark for visitors to Barcelona, this long thin column actually contains an elevator and look-out point! The Columbus statue gives you an excellent view of Barcelona's most famous sights while remaining close enough to the ground that people and buildings are still recognisable.
---
La Sagrada Familia
Designed by Antoni Gaudi, the Roman Catholic basilica is unfinished and is not due to be completed until 2026, 100 years after Gaudi died! You can climb the many stairs to the top of basilica, as well as look around the museum that details the history of the building's construction.
---
Museu Picasso (Picasso Museum)
This museum has numerous collections giving you a great overview of the life of Pablo Picasso. It is located on Carrer Montcada, one of Barcelona's most popular streets.
Ticket prices vary from about 4€ to 9€, depending on whether you are visiting both the temporary exhibition and main collection.
Entry to the Picasso Museum is free on the first Sunday of the month.
There are free guided tours on Thursdays and Saturdays. The English tours begin at 6pm on a Thursday and 12noon on a Saturday.
Sign-up & Save!
Subscribe to receive Sid's latest deals and offers!