Santander & Bilbao
Santander & Bilbao
Take the ferry directly to the ports of Santander and Bilbao and experience some of Spain's diverse landscape.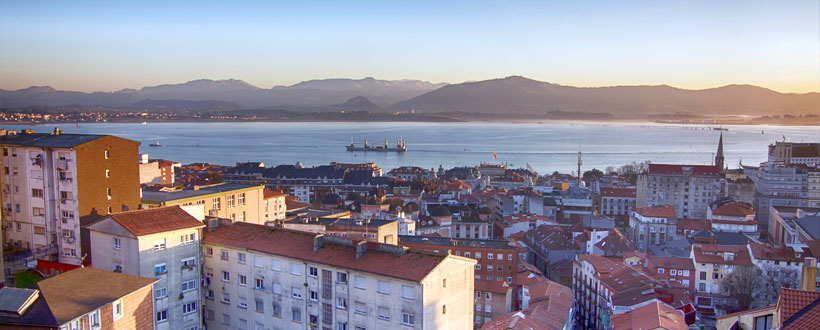 Santander
Santander has not only pretty beaches but also a bustling town which has a great atmosphere with plenty of places to visit for eating and drinking.
Particularly the old-world elegance of El Sardinero, A huge fire raged through the city in 1941, but what's left of the 'old' centre is a lively source of entertainment for the palate and liver, and has an atmosphere well worth stopping to savour.
Bilbao
Visit the newly transformed Northern Spanish city of Bilbao with its port, wide boulevards, stunning bridges and parks as well as the historic old city Casco Viejo and the University.
The Basque Country's biggest and busiest city, Bilbao (Basque: Bilbo) is a city to dream about – vital, vibrant and culturally dynamic, yet somehow stress-free. Bilbao lies on Ría Nervión and is neatly wedged into the green hills of Vizcaya province. At its heart it is sliced in two by the murky waters of Ría de Bilbao, the Nervión's channel to the sea.
---
Santander Must Sees
Museo Marítimo del Cantábrico
Visit the maritime museum near the beaches which includes an aquarium, displays about marine biology, maritime history, a 60-tonne whale skeleton and the history of Portus Victoriae, the Roman port town from which Santander later grew.
Opening Hours:
10am-7.30pm
---
The Cathedral of Santander "Nuestra Señora de la Asunción"
In the centre of the city and is one of the oldest buildings in Santander having been built in the 13th Century. It is worth visiting the tomb of Marcelino Menéndez Pelayo and the crypt of "el Cristo" which is situated under the main chapel.
---
Bilbao Must Sees
The Guggenheim Museum
Designed by Canadian architect Frank Gehry and opened in 1997. One of the most extraordinary and beautiful buildings, standing by the side of the river resembles a ship. For the best view of the structure cross to the other side of the river where you can see it in its full perspective.
Not forgetting the mascot of the Museum, the large floral sculpture named Puppy. Situated outside the Guggenheim itself it is always a hit with tourists.
Opening Hours:
Mon Closed
Tue-Sun 10am-8pm
July and August open every day
---
Ria de Bilbao Maritime Museum
Located in the Abandoibarra area of Bilbao, are the docks of the historic Euskalduna shipyard, the Ria de Bilbao Maritime Museum contains many important local nautical artefacts and maritime memorabilia, including the Urbieta Shipwreck. The collections are displayed both indoors and outdoors, around the renovated docks, which has become a particularly trendy and vibrant area of the city. The museum's docks contain a number of spectacular restored sailing ships.
Opening Hours:
Tue-Sun 10am-8pm
Sign-up & Save!
Subscribe to receive Sid's latest deals and offers!