Paris
Paris
Paris, the cosmopolitan capital of France, located in the north of the country on the river Seine.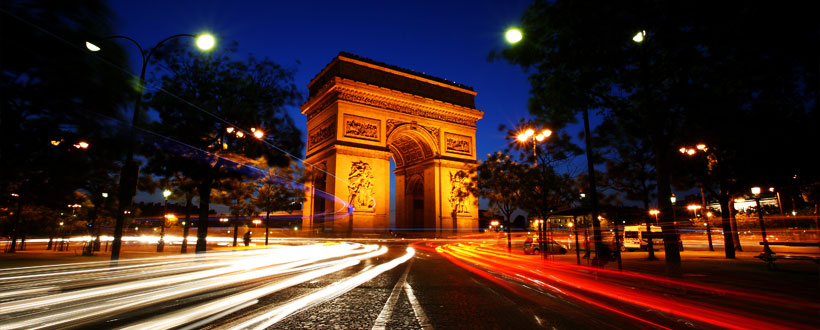 Paris has the reputation of being the most beautiful and romantic of all cities, brimming with history and still remaining vastly influential in the realms of culture, art, fashion, food and design. Dubbed the City of Light (la Ville Lumière) and Capital of Fashion, it is home to the world's finest and most luxurious fashion designers and cosmetics. A large part of the city, including the River Seine, is a UNESCO World Heritage Site. Paris nightlife is legendary, with their world-class bars and clubs, the city almost never goes to sleep. The city has the second highest number of Michelin-restaurants in the world and contains numerous iconic landmarks, making it the most popular tourist destination in the world!
---
Paris Must Sees
The Eiffel Tower
An iron lattice tower located on the Champ de Mars in Paris, named after the engineer Gustave Eiffel, whose company designed and built the tower in 1887. Height is 324 m over 3 floors.
---
The Arc De Triomphe
One of the most famous monuments in Paris. It stands in the centre of the Place Charles de Gaulle, at the western end of the Champs-Élysées.
---
Notre-Dame Cathedral
A historic Roman Catholic Marian cathedral on the eastern half of Paris, France. Construction started in 1163 and it opened in 1345.
---
Montmartre
A hill in the north of Paris, France. It is 130 metres high and gives its name to the surrounding district, locally known as the Artist district. Basilica of Sacre-Coeur is worth a visit an immense white basilica in a Roman-Byzantyne style that sits on the crest of the hill. This architectural style stands in sharp contrast with other contemporary buildings in France, which were mostly built in a Romanesque style. The Sacré-Coeur Basilica has managed to keep its beaming white color even in the polluted air of a big city like Paris. This is attributed to the Château-Landon stones which were used for the construction of the Sacré-Coeur. When it rains, the stones react to the water and secrete calcite, which acts like a bleacher.
---
The Louvre Museum
One of the world's largest museums, and a historic monument. A central landmark of Paris, France, it is located on the Right Bank of the Seine. It was established in 1793.
---
Disneyland Paris
Originally Euro Disney Resort, later Euro Disneyland, is an entertainment resort in Marne-la-Vallée, a new town in the eastern suburbs of Paris, France, located 32 km from the centre.
Sign-up & Save!
Subscribe to receive Sid's latest deals and offers!