Bruges
Bruges
A must-see on any traveler's list, Bruges is a charming town filled with incredible history, beautiful scenery and friendly locals. Plus, it's a pedestrian's dream. What's not to love?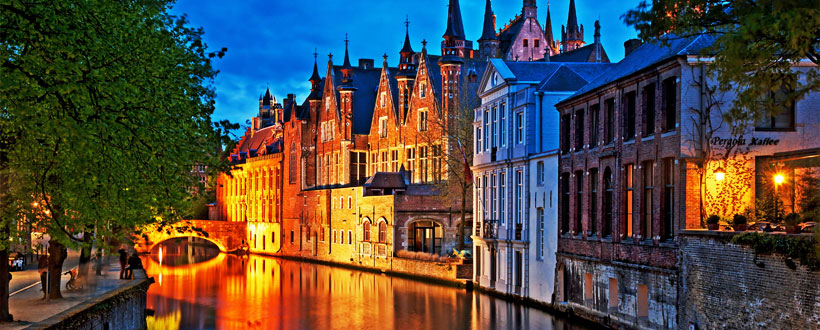 Bruges is the capital and largest city of the province of West Flanders in the Flemish Region of Belgium. It is located in the northwest of the country. The historic city centre is a prominent World Heritage Site of UNESCO. Bruges is an outstanding example of a medieval historic settlement, which has maintained its historic fabric as this has evolved over the centuries, and where original Gothic constructions form part of the town's identity. As one of the commercial and cultural capitals of Europe, Bruges has developed cultural links to different parts of the world. It is closely associated with the school of Flemish Primitive painting.
When in Bruges, there's nothing like viewing this historic city from its canals. These affordable, 30-minute boat tours follow the same routes and offer commentary in several languages. But because they're incredibly popular with visitors, don't be surprised by long waits in line, but it's worth it!
---
Bruges Must Sees
Sint-Salvador Cathedral
The cathedral of Bruges, Flanders, in present-day Belgium.
Opening Hours:
Mon-Fri 10am-1pm, 2-5:30pm
Sat 10am-1pm, 2-3:30pm
Sun 11:30am-12pm, 2-5pm
---
The Belfry (or Belfort) of Bruges
A medieval bell tower in the historical centre of Bruges, Belgium.
Opening Hours:
Mon-Sun 9:30am-5pm
---
The Groeningemuseum
A municipal museum of Bruges, Belgium. It houses a comprehensive survey of six centuries of Flemish and Belgian painting, from Jan van Eyck to Marcel Broodthaers.
Opening Hours:
Mon Closed
Tue-Sun 9:30am-5pm
---
Béguinage
A collection of small buildings used by Beguines. These were various lay sisterhoods of the Roman Catholic Church, founded in the 13th century in the Low Countries, comprising religious women who sought to serve God without retiring from the world.
Opening Hours:
Mon-Sun 8am-6pm
---
Canal Trip Bruges-Dames
30 minute boat tour viewing the historic city along the canals.
Sign-up & Save!
Subscribe to receive Sid's latest deals and offers!