Dublin
Dublin
Centrally located in the middle of Irelands east coast and with easy access by ferry from Holyhead or Liverpool, the Irish capital city of Dublin is ranked as one of the top 30 cities in the world and attracts thousands of visitors each year.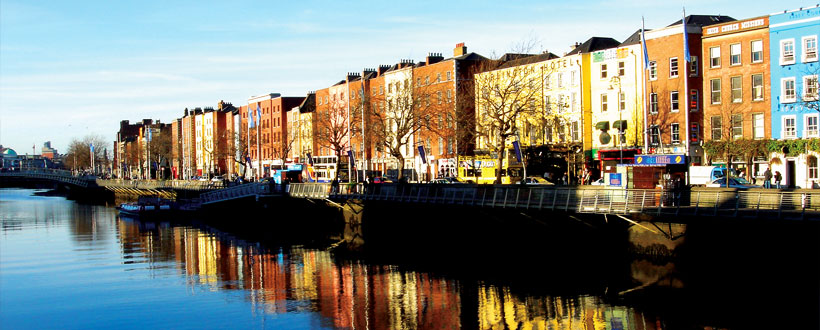 Whilst it is a large city, with over a quarter of the country's population resident there, the city centre itself is compact and can easily be explored on foot. Dublin has personality unrivalled by any other city and this together with the cities pretty landscaped parks and awe-inspiring Georgian architecture is guaranteed to leave a lasting impression on any visitor.
---
Dublin Must Sees
The National Leprechaun Museum
The first ever attraction dedicated to Irish mythology. The museum helps visitors to discover the truth behind the myths of leprechauns, rainbows, pots of gold and more!
---
Dublin Castle
Built in the 13th century on the orders of Kind John. Tours of the castle and grounds are available to visitors and give a fascinating insight into the history of Ireland and Dublin.
---
Fry Model Railway
Ireland's largest model railway and displays a scale version of the majority of Ireland's rail network and Irish Sea Ferry services.
---
Old Jameson Distillery
Perhaps one of the most popular attractions in the area. The museum takes visitors on a journey through the distilling process from grain to bottle and offers answers to all the questions you've wondered but never been able to ask about whiskey. For those who enjoy a tipple, opt for the tasting tour which enables you to sample different whiskies from around the world and learn about their differences!
---
Phoenix Park
One of the largest parks in Europe with over 1750 acres of land. The park is open to the public 24 hours a day and in addition to lush grassland and children's play areas is home to Dublin Zoo, a number of sports pitches and the official residences of both the Irish President and the American Ambassador.
Sign-up & Save!
Subscribe to receive Sid's latest deals and offers!