Lille
Lille
The first-time visitor is often pleasantly surprised by Lille. A young and cultural city whose Flemish influence can be seen not only in its architecture but also in the irrepressibly cheerful nature of its residents.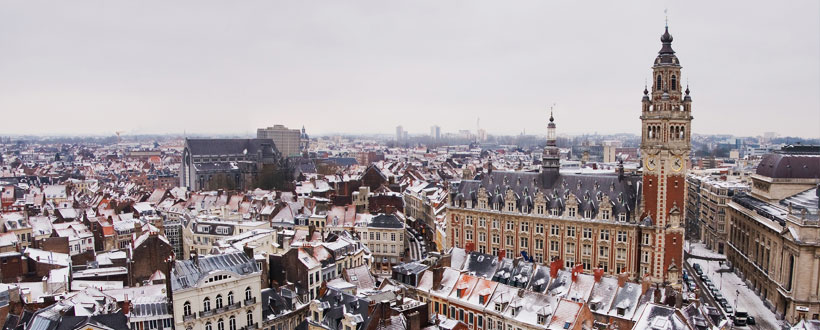 The northern French have a reputation for seriously enjoying themselves, and you'll quickly discover this in the scores of welcoming bars and bistros. Lille has a night life that offers traditional bars and pubs and cool cafes and wine bars. The locals love partying and there are scores of bars and clubs packed until the early hours of the morning!
As well as fabulous art and architecture, the shopping is also great, with a whole host of creative local boutiques waiting to be discovered. So you may be tempted to come to Lille on a day trip but once you get to know the city you'll soon want to return.
---
Lille Must Sees
Vieux Lille (Old Lille)
Lille old town is quite simply gorgeous. Walk its streets; take time to look at its architecture and to walk along its cobbled streets. Start at Grand' Place – the main market square, and take it from there taking it as many of the sights as you can.
---
Palais des Beaux-Arts (Fine arts Museum)
This museum is one of the first museums of France and houses in its imposing 19th century building collections of European paintings, antiquities, a mediaeval and Renaissance collection, 17th and 18th century ceramics, 19th century French sculptures and 18th century scale models of fortified towns.
---
Grand Place
The main square is a favourite meeting place an offers an interesting view of the architecture from the 17th to the 20th century. In front of the Old Stock Exchange built from 1652 to 1653, is without a doubt the town's finest building. This building is made up of 24 little houses around an arched courtyard. A second-hand book market as well as chess players can be seen inside. On this square is situated the Grand Garde.
---
The Citadel
Louis IXV, the Sun King, having just conquered the town of Lille, commissioned Sébastien Le Preste, to fortify it with a citadel. It was built just outside Vieux Lille. Constructed in just three years between 1667 and 1670 it remains the largest and the best preserved citadel in France. It was really a little town surrounded by five bastions in the form of a star. Visitors can take a guided tour of the citadel on Sundays in May and August and on selected dates outside this period. You must book in advance as no impromptu visits are allowed.
---
Braderie de Lille
Is the biggest fleamarket in Europe and includes all kinds of fringe events and gatherings. Among the many boutiques and shops in Lille you'll find Europe's largest bookshop, the Furet du Nord, which has over 7,000 square metres of bookworm heaven, and often hosts cultural gatherings, debates and lectures.
Sign-up & Save!
Subscribe to receive Sid's latest deals and offers!