Ghent
Ghent
Ghent is Flanders' unsung city and Belgium's fourth-largest and most beautiful city home to a quarter of a million people.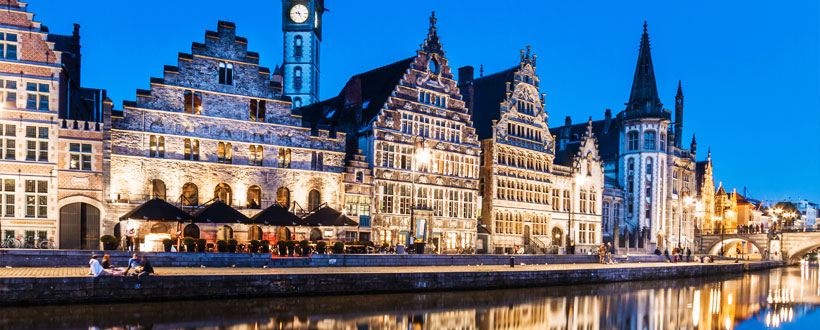 Sandwiched between Brussels, Bruges and Antwerp, this attractive medieval canal city has long been overlooked by visitors on the traditional art-town hop between Belgium's big three. Ghent has a flourishing flower export trade, an important port and Ghent's city centre has a pedestrian area that is like a museum to early Flemish architecture and a testament to the city's medieval might. Impressive Gothic sites, such as dramatic St. Bavo's Cathedral and the Castle of the Counts, inspire awe. The works of Flemish masters are housed in the distinguished Museum voor Schone Kunst. So, if you're the type who prefers exploring away from the tourist hordes, funky Ghent's definitely the place to go!
---
Ghent Must Sees
Belfort en Lakenhalle (Belfry and Cloth Hall)
The Belfry was a symbol of the city's autonomy, begun in 1313 and completed in 1380. This municipal tower holds the great bells that have rung out Ghent's civic pride through the centuries.
Opening Hours:
Daily 10am-6pm
---
Sint-Baafskathedraal (St. Bavo's Cathedral)
Don't miss this cathedral! Exterior of Romanesque, Gothic, and baroque architecture with an interior filled with priceless paintings and sculptures, including the 24-panel altarpiece "The Adoration of the Mystic Lamb", completed by Jan van Eyck in 1432.
Opening Hours:
April-October
Mon-Sat 8:30am-6pm
Sun 1pm-6pm
November-March
Mon-Sat 8:30am-5pm
Sun 1pm-5pm
---
Het Gravensteen (Castle of the Counts)
Built by Count Philip of Alsace, count of Flanders, soon after he returned from the Crusades in 1180 with images of similar crusader castles in the Holy Land.
Opening Hours:
April-September
Daily 9am-6pm
October-March
Daily 9am-5pm
Closed Jan 1, Dec 24-25 and 31.
---
Sint-Niklaaskerk (St Nicholas's Church)
A mixture of surviving Romanesque elements of the Flemish architectural style known as Schelde Gothic, the impressive 13th- to 15th-century church was paid for by Ghent's wealthy medieval merchants and guilds.
Opening Hours:
Mon 2:30pm-5pm
Tues-Sun 10am-5pm
---
STAM – Ghent City Museum
Tells the story of Ghent in the 14th century Bijloke Abbey.
---
Rederij Dewaele Canal Cruise
A cruise on the canals is a good way to view the city's highlights. This tour lasts approximately 40 minutes.
Opening Hours:
April-October
Daily 10am-6pm
November-March
Weekends 11am-4pm
Sign-up & Save!
Subscribe to receive Sid's latest deals and offers!