County Kerry
County Kerry
In the South Western corner of Ireland lies County Kerry.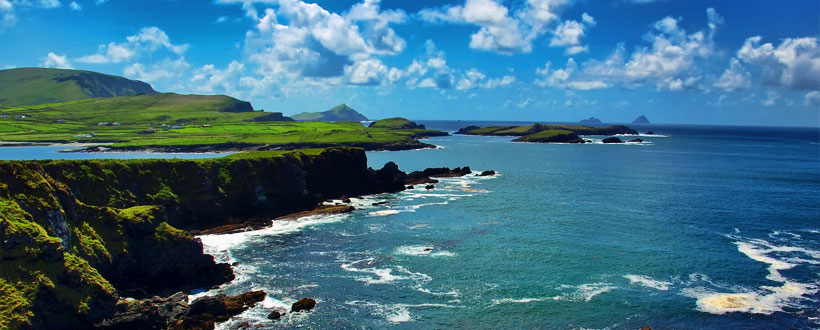 Regarded as possibly the most scenic and picturesque county in all of Ireland, Kerry's beauty is popular with tourists who flock to the area all year round. Regardless of your interests there is guaranteed to be something for you in County Kerry, from horse riding to water sports and Mountaineering to deep sea diving. The most popular way to see the county is by travelling the Ring of Kerry, a 214km loop that takes you right around the county, passing by all the sights along the way. To see things properly will take a minimum of 2 days.
---
County Kerry Must Sees
Michael Skellig
A 6th century monastery on an Island just off the coast of Kerry. Daily boat trips to the Island depart from Portmagee.
---
Valencia Island
Valencia Island is linked to the mainland both by bridge and by a small car ferry. Drive up Geokaun mountain or visit Glanleam House and sub-tropical gardens.
---
The Lakes of Killarney
A renowned scenic attraction found in a mountain ringed valley.
---
Carrauntoohil
The highest mountain in Ireland. No specialist equipment or training is needed to climb to the summit however caution is advised.
---
Gallarus Oratory
Gallarus Oratory at Dingle peninsula is believed to be an early Christian Church built at some point between the 6th and the 9th centuries.
Sign-up & Save!
Subscribe to receive Sid's latest deals and offers!