Reims
Reims
Only a three-hour drive from Calais, Reims is a great excuse for a quick tour of a champagne house, a good meal and the purchase of a case or two of bubbly.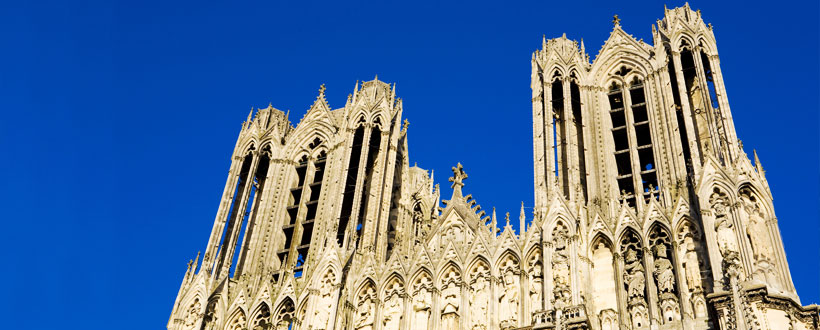 But, if you have more time it is worth viewing some of France's most important heritage, from the pure Gothic cathedral to fine museums and the revamped city centre after the destruction of the original after World War 1. What makes Reims even more special is the royal connection: 33 kings were crowned here, most famously Charles VII. Reims has 4 Unesco World Heritage statuses and the region has applied for a fifth – for champagne! At Taittinger, three million bottles are housed in the former wine cellars of a 13th-century church. A more visible Roman legacy is above ground, the massive Porte de Mars, with its three stone arches. And there is so much more to discover; the city's art gallery boasts superb watercolour portraits and paintings, the town hall dates from the 17th Century & Palace of Tau retains a 13th century Palatine chapel.
---
Reims Must Sees
Cathedral
(Notre-Dame de Reims)
The cathedral at Reims was the church in which numerous French monarchs were officially crowned. Reims is one of the later Gothic cathedrals and renowned for its height. The south transept window by Jacques Simon shows themes linked with champagne including a portrait of the monk who invented it, Dom Perignon!
---
The Palace of Tau
The Palace of Tau was the archbishop's palace and retains a 13th Century Palatine chapel.
---
The Porte de Mars
A large late-Roman period triumphal arch.
---
The Hotel de la Salle
A fine Renaissance mansion.
---
The Town Hall
Dates from the 17th century. Behind it on the right is a fine art nouveau building originally for Mumm champagne, with mosaics showing the champagne making process.
---
Saint Remi Basilica
A Romanesque church some way south of the centre of town.
---
Champagne Houses and Chalk Caves
The many champagne houses and the chalk caves that are used to store and age the champagne. Most of the houses have several guided tours throughout the day in a variety of languages for a small fee, which usually includes a sample at the end of the tour!
Sign-up & Save!
Subscribe to receive Sid's latest deals and offers!