Jersey
Jersey
Explore Jersey from the north, south, east and west!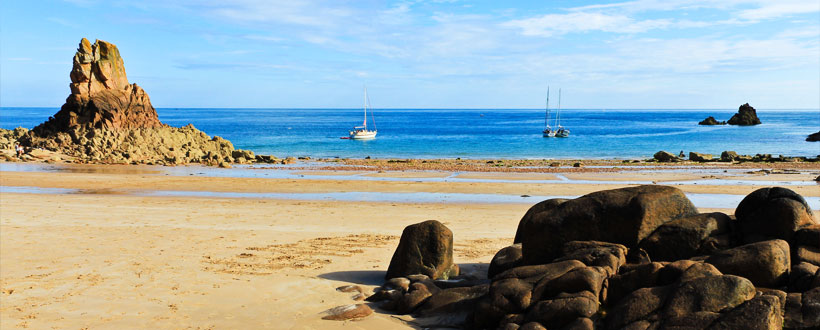 Walk the coastal path along the north coast for striking granite cliffs surrounded by maritime heathland - and bask in the rugged beauty of Jersey's northern coast. Visit the mysterious medieval ruins of Grosnez castle at Les Landes or stop off at the 200 foot high rock 'Le Pinacle' - a ceremonial site for thousands of years.
The south is the most diverse sector of the island - with St Helier its vibrant capital; with its historic harbours, fabulous shopping and superb local restaurants. Elizabeth Castle is a must-see standing proudly at the port entrance and for tales of smugglers and piracy venture to nearby St Aubin where traditional hostelries abound - once the home of rich merchants making fortunes from the Newfoundland cod fleets.
Steeped in history - the east coast features many 18 century towers such as Seymour tower on La Rocque point (accessible only at low tide by foot). The coast is dominated by the majestic castle of Mont Orgeuil, which defended the island against the invasions; views from the top of the castle are amazing and well worth the climb. Don't miss the six thousand year old Neolithic burial chamber at Hougue Bie.
The west is the wilder side of Jersey with beautiful landscapes stretching down to fantastic rolling beaches and the wild surf of St Ouen's Bay. Here you can visit the Rocco tower constructed during the Napoleonic wars on a rocky islet close to the bay. Visit the majestic Corbiere lighthouse for that perfect picture postcard sunset.
---
Jersey Must Sees
Grosnez Castle
This spectacularly located ruin on the northwest of the Island is believed to have been built in the 14th century.
Opening Hours:
Open to the public all year round.
---
Seymour Tower
One of the largest inter-tidal reef sites in Europe. It is an exceptional example of Jersey's unique form of coastal defence tower. Completely surrounded by sea twice a day you can even stay in this property for a truly unique experience.
Opening Hours:
Access is dependent on tidal conditions - check before you travel.
---
The Minquiers
Nicknamed "the Minkies" are a group of islands and rocks situated 9 miles south of Jersey forming part of the Bailiwick of Jersey.
Getting There:
The best way to visit is to charter a boat or join a kayaking tour.
Sign-up & Save!
Subscribe to receive Sid's latest deals and offers!