The Netherlands
The Netherlands
There aren't many countries with so much land below sea level or indeed that are this flat.
There aren't many countries with so much water and wind, or so many boats, sails, bikes, birds, dykes, polders, windmills, flowers, fish, bridges, cafés, cheese. Simply put, there is no place like the Netherlands. Starting with popular Amsterdam, the capital of culture, coffee shops and canals, its mesmerising beauty is hard to overestimate, and yet a number of stunning cities are only hours, or even minutes, away by train. Haarlem, Groningen City, Rotterdam, Utrecht City, Den Haag, Leiden, Delft, Maastricht - the list seems endless, a mind-boggling concept considering the size of this small nation. Outside the cities, the Netherlands host a number of stunning national parks, sheep-patrolled polders which are perfectly complimented by shimmering lakes, sandy coastlines, and a chain of windswept islands. The best way of course is to view all this from the comfort of a bicycle seat – you won't be disappointed!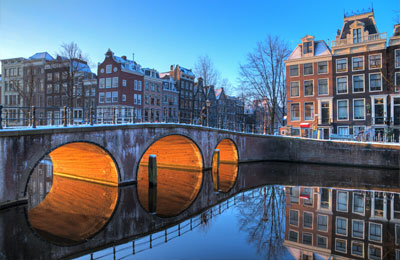 Discover the capital of the Netherlands on either foot, bicycle or canal boat. There is plenty to see and do for everyone, including a museum for almost every type of interest. FerryCheap.com recommends; the Van Gogh Museum which consists of about 200 paintings and 500 drawings by Vincent Van Gogh and his contemporaries, such as Gauguin, Monet, Toulouse-Lautrec and Bernard. And Anne Frank's House which includes a reconstruction of Anne's bedroom and the actual diary she is famous for. The focus of this museum is the achterhuis in the rear of the house which is also known as the secret annexe. The Venice of the North as Amsterdam is also known is definitely worth a visit.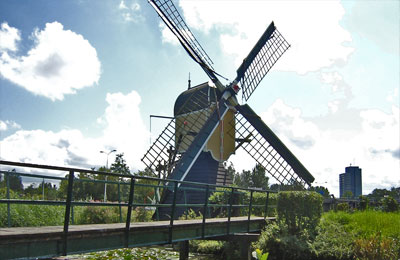 Leiden is Rembrandt's birthplace and home to the alma mater of René Descartes, the Netherlands' oldest university. Although it is a relatively small city with it's canals and attractive old buildings this is a very pleasant and pretty area of the Netherlands to visit. FerryCheap.com recommends; the Lakenhal Houses the Municipal Museum which has many works on display by the Old Masters, as well as period rooms and temporary exhibits. The 1st floor has been restored to the way it would have looked when Leiden was at the peak of its prosperity. Rederij Rembrandt, Enjoy a leisurely one hour boat tour with commentary which takes you around the old Centre and gives you a chance to take in the views. De Valk Windmill, One of the last remaining Windmills in Leiden it is also a Museum which tells of the importance of Windmills of all types in Holland. It has seven floors, which are all open to the public. You can also climb to the top to get views of Leiden.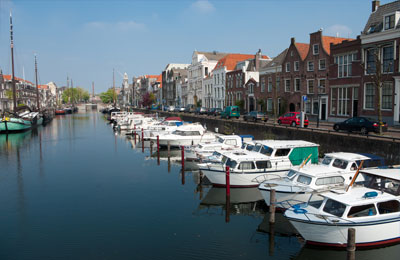 Is the second largest city in the Netherlands and is Europe's busiest port. It has a relatively new skyline having fallen victim to severe bombing during WW2. However, there are still museums and galleries to visit for those seeking some Dutch culture. FerryCheap.com recommends; the Museum Boijmans van Beuningen which houses a collection spanning all eras of Dutch and European art, including superb old masters, these include works by Hieronymus Bosch, Van Eyck, Pieter Brueghel the Elder, and Rembrandt. Oude Kerk, is a reconstructed 18th-century windmill overlooks the water here and is famous for where the Pilgrims left Holland for America aboard the Speedwell. It is one of the few districts to survive the bombings. De Dubbelde Palmboom, is a museum which houses an excellent collection of items relating to Rotterdam's history as a port, with displays spread throughout the 1826 warehouse.
Sign-up & Save!
Subscribe to receive Sid's latest deals and offers!